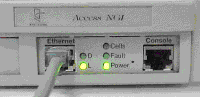 The green "Power" LED should be lit at all times, whilst the "Fault" LED should never be lit. Call Media Hub to resolve any problems.
The "Cells" LED will flash to indicate traffic passing through the switch. At busy times, it will flash almost continuously, but it may only flash intermittantly when not used much.
The output of the FVC switch feeds the input of the IBM ethernet switch. This connetion is made from the ethernet port on theFVC switch using a special type of network cable to crossover the two receive and transmit pairs. The "L" LED (link) should be on at all times, the "D" LED (data) flashing indicates data passing through the ethernet port and is normal.